Koupání miminka není žádná věda.🤗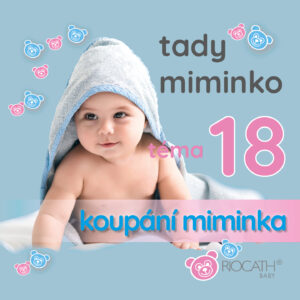 Pokud víte, jak miminko ve vodě držet (hlavičku na předloktí, držíme paži miminka po celou dobu koupání) nemusíte se ničeho bát. 🛁 
💦 Snažte se vnímat své miminko a podle toho se orientovat. Novorozenci příliš rádi koupání nemají, proto jim ho zpříjemněte, dejte dostatek vody, položte na miminko žínku nebo jej zabalte do látkové plínky, bude se cítit více v bezpečí.👶
Myslete na to, že novorozenec neumí příliš regulovat teplotu. To znamená, že jej můžeme snadno přehrát (příliš oblečené dítě, vykřičí si teplotu), ale také podchladit (nedostatečné oblečené miminko, příliš dlouhá koupel, chladná voda).🌡 Proto by měla koupel novorozeného dítěte trvat se vším všudy do 15min. Postupně miminko přivykáme, snižujeme teplotu a otužujeme.
Kůže malého dítěte je velmi jemná a citlivá. Myslete na to při péči o ni. Zde, skoro jako ve všem platí, že méně je více. Používejte tedy přírodní kosmetiku a kůži nedřete.🌿
Není třeba používat kosmetiku při každém koupání.
Skvělé je bambucké máslo nebo olejíček kápnutý do vody. Pro větší děti lze použít k zabavení nejen hračky, ale vytvořit jim bublinkovou oázu.🫧
Za článek plný skvělých a důležitých informací moc děkujeme dětské sestřičce, Adéle Pasculli z @thenurseforyourbabies 👩🏻❤️