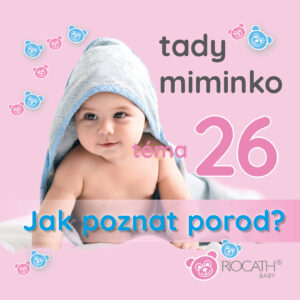 Tuhle otázku si pochopitelně častěji pokládají prvorodičky, ale pokud máte děti déle po sobě, i vám se malé opáčko může hodit.😉
Znáte ty scény z filmů, jak jede pár zběsile do porodnice, červená nečervená, muž stříhá zatáčky, žena úpí a zavírá v hrůze oči?😆 A pak dorazí do porodnice odkud je pošlou zpět domů, že je to planý poplach a tak zvané poslíčky.😅🫢 Takové poslíčky poznáte tak, že bolest po nějaké chvíli zcela ustane. Ideální je to otestovat v teplé sprše.🚿 Bolesti přestaly = poslíčci. Bolesti nepřestaly a zpravidelňují se = je tu porod.⏱
Teď si pojďme říct další známky toho, že porod je opravdu tady:
🤰🏻To, že nastávající mamince odejde hlenová zátka ještě nemusí znamenat rozběhnutí porodu, ta může totiž odejít i několik dnů před samotným porodem.
🤰🏼Žena cítí bolesti podobné těm menstruačním, tedy křeče a stahování v oblasti podbřišku. Tady pomáhá teplo. Sprchujte si teplou vodou oblast podbřišku a beder, uleví se vám.
🤰🏽V této fázi může přijít vyprázdnění obsahu střev (s tím, že jídlo je to poslední na co máte pomyšlení), pokud ne, máte pak v porodnici možnost například klystýru.
🤰🏼Když už teplá sprcha neulevuje/nepomáhá a kontrakce přichází pravidelněji a jsou intenzivnější, připravte se na cestu do porodnice.
🤰🏻Že je porod tady, zaručeně poznáte, když vám praskne plodová voda. Nečekejte žádnou potopu, voda odchází postupně. Proto je dobré dát si na cestu do nemocnice porodní vložky (doporučují se 2-3).
Rozhodně jeďte do porodnice ve chvíli, kdy ženě začne odtékat plodová voda, taky kdyby začala krvácet!!🩸
Maminky, tátové, nastávající i už zkušení rodičové, držíme vám všem moc palce, jestli vás už brzy čeká narození miminka. Tfuj tfuj!❤️