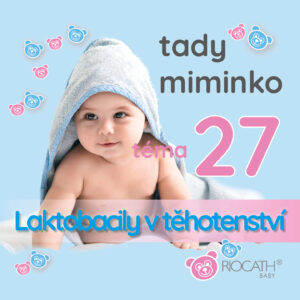 Když se snažíte otěhotnět, možná si jako takový základ koupíte kyselinu listovou🌱 a tu poctivě berete i během těhotenství. Třeba přidáte i nějaké komplexní vitamíny pro těhotné.💊 A třeba se zamýšlíte nad tím, jak ještě udělat sobě a miminku dobře. Pojďme si říct, jestli je dobré užívat v těhotenství laktobacily.😉
🤔CO TO JE: Laktobacily jsou probiotické bakterie.
👌CO UMÍ: Osídlují střevní mikroflóru a zajišťují správnou funkci střev a imunitu organismu.
🤗BENEFITY: Z užívání laktobacilů má užitek i miminko, ať už v břiše nebo pak při kojení.
Další výhodou je snížení rizika výskytu těhotenské cukrovky. Laktobacily se například taky podílejí na optimalizaci porodní hmotnosti dítěte, eliminují plynatost a průjem během těhotenství, pomáhají předejít gynekologickým zánětům, které jsou v těhotenství častější.
👀PROČ: Probiotika snižují podle průzkumů riziko vzniku alergií a ekzémů.
Jde o průlomový objev, ne který se pak nabalily mnohé studie a doporučení Světové zdravotnické organizace pro užívání probiotik, a to zejména u těhotných a kojících s vyšším rizikem, že jejich dítě bude alergické.🤱🏼 Jenže takových tělu prospěšných bakterií je spousta. Výsledků dosahují zejména Lactobacillus rhamnosus HNOO1. Právě tyto bakterie mohly za velký pokles výskytu alergií u dětí, jejichž maminky tyto doplňky užívaly.🧬 Nejlepší efekt pak vědci vypozorovali u atopických ekzémů, potravinových alergií a senné rýmy.
🤨ZAJÍMAVOST: Probiotika ve vztahu k ekzému jsou účinnější, pokud působily přes placentu nebo mateřské mléko v porovnání s podáním probiotik novorozenci napřímo.
🙃JAK DLOUHO A KDY UŽÍVAT: Zejména poslední 4 týdny těhotenství a prvních 6 měsíců během kojení.
Maminky, máte s probiotiky během těhotenství a kojení zkušenost?